Services worth Rs3bn to be provided free at NICVD in a year
The National Institute of Cardiovascular Diseases (NICVD) will be providing services worth Rs3 billion free of charge to patients in a year, announced the medical facility's executive director, Prof Nadeem Qamar, on Tuesday.
The declaration to provide free of charge services to all patients visiting the Out Patient Department and the general ward of the NICVD, was made by Prof Qamar on July 18. "Since then, not a single rupee has been charged from the 95 percent of patients who visited the hospital for treatment."
NICVD's director was accompanied by renowned cardiologist Prof Nadeem Rizvi, Paediatric Cardiologist Prof Dr Najma Patel and senior consultant cardiologist Dr Fazl-e-Rabbi. The free services include admissions to the general ward, emergency services, cardiac interventions, elective surgeries, medicines and medical devices among several others.
Furthermore, Prof Qamar announced renovating all operation theatres at the cardiac centre, establishment of the eighth cardiac catheterisation (cath) lab, induction of a second thallium stress machine and seven ventilators in the emergency room of the NICVD.
"The Sindh government has increased our grant to Rs4 billion from Rs1.8 billion so as to help us provide all the services including costly surgeries, medical tests and placement of life-saving devices free of cost," the NICVD director added.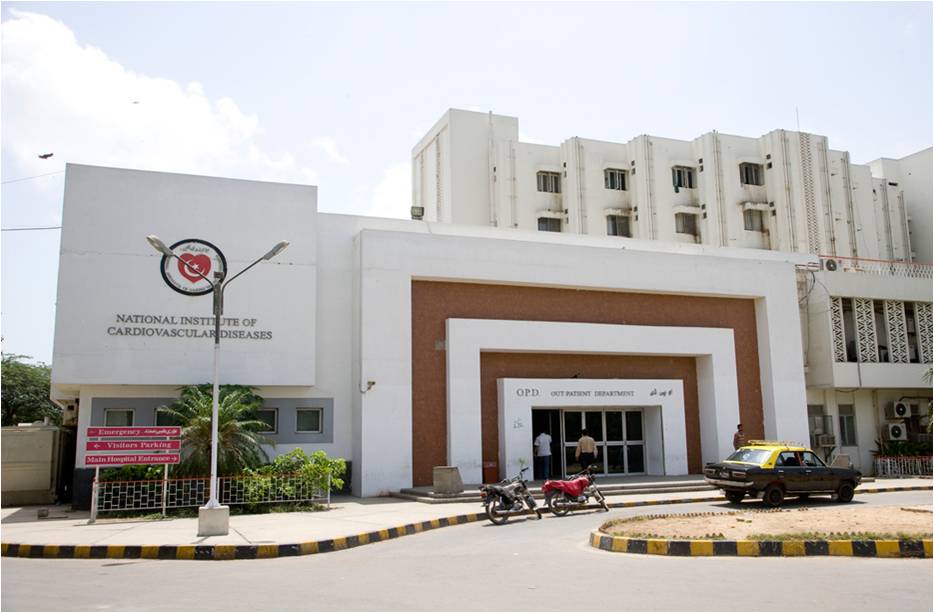 OPD timings, doctors increased
Prof Qamar further announced that from now onwards OPD timings will be increased till 5pm, adding, that the number of doctors in the OPDs have also been doubled to cater to a large number of patients.
"Earlier, only those patients could avail OPD services who managed to reach the NICVD by 12 noon. But now, I have asked to issue OPD tokens till 4pm and have instructed the staff to provide consultation to every patient who manages to acquire an OPD token as majority of the patients come from far flung areas of the province."
New buildings
A three-storied building dedicated for OPDs is under construction and would be completed in a year, the NICVD executive director further announced. "With its completion the number of OPDs will be increased manifold and a large number of patients, not just from Sindh but from the entire country will benefit from them."
A plan to build a separate building for paediatric surgery is also underway. Expected to be completed in two years, the department would facilitate thousands of children with heart problems.
Prof Qamar added that another building wherein all wards and operation theatres will be shifted would be constructed with public and private partnership.
"Our current capacity is of 618 beds but after construction of the new building, the NICVD would be able to admit 2,000 patients at a time," he claimed.
Numbers that matter
As many as 410,217 patients were provided OPD services at the hospital during May 2016 to April 2017, but this year the number of patients will be twice, if not thrice, as large as last year's due to free OPDs, Prof Qamar said.
The NICVD hopes to conduct thousands of angioplasties, including 6,000 Primary PCIs, over 3,000 elective angioplasties, hundreds of bypass surgeries and hundreds of other cardiac interventions.
Satellite centres in Sindh
Furthermore, the medical facility's first ever satellite healthcare centre has been established at Larkan, and has, since last month, carried out  around 101 angioplasties, NICVD director stated. It would formally be inaugurated on July 30.
The NICVD plans to establish seven such satellite centres in coming months, including three at Tando Muhammad Khan; Sukkur and Sehwan this year, and three more at Nawabshah, Khairpur and Mirpurkhas by the end of 2018.
Prof Qamar on the occasion, urged media personnel to apprise the public of the free of charge, quality services being offered at the NICVD.
Source: The News International