Welcome to National Institute of Cardiovascular Diseases, Nawabshah

National Institute of Cardiovascular Diseases-NICVD in collaboration with the Government of Sindh has established its 6thstate-of-the-art NICVD Centre in Nawabshah, to provide comprehensive state-of-the-art cardiac care services to the people of Sindh at their doorstep.
SERVICES AT NICVD NAWABSHAH
24/7 Cardiac Emergency
Adult Cardiology
Paediatric Cardiology
Interventional Cardiology
Out-Patient Services
In-Patient Services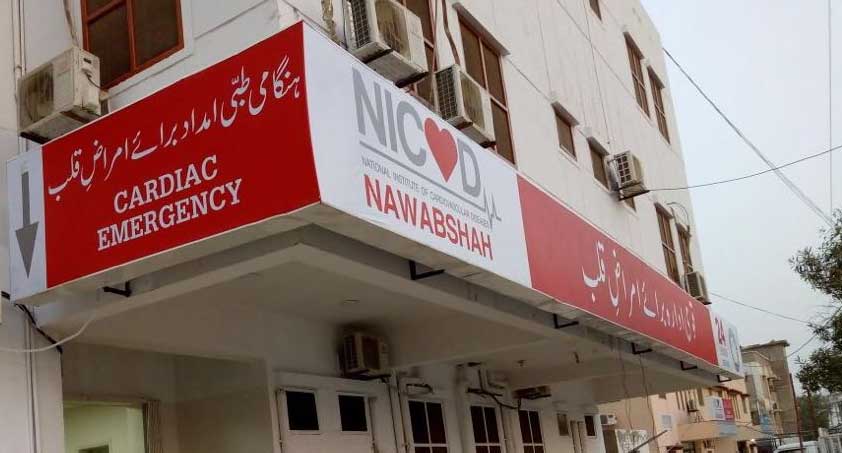 The modern and well-equipped Emergency, Cath Lab, CCU and Consulting Clinics will provide quality treatment, advanced diagnosis, 24×7 cardiac emergency facilities, adult and paediatric cardiology, echocardiography services, coronary artery angioplasty and angiographies 100% free of cost, by internationally and local trained cardiologists, paramedical staff and technicians. In near future cardiac surgeries will also be initiated here.
This hospital is another milestone to serve the population of Sindh, with a vision to benefit patients with early and easy access to quality heart healthcare facilities. NICVD is committed to provide Cardiovascular Services to the population of Sindh Province at their doorstep.
Embracing the rapid technological advancement in the field of heart health, NICVD has brought modern cardiovascular modalities to the population of Sindh province with quality and care. With the same state-of-the-art cardiac facilities, NICVD has stepped into the city of Nawabshah and has started Cardiac Emergency, Primary PCI (Angioplasty during heart attack), Adult and Paediatric Cardiology, Consulting Clinics, Echocardiography (especially of children) and Critical Coronary Care for the population of this city and peripheries totally free of cost. Further in near future, this cardiac unit will be enhancing its capacity and infrastructure to provide best comprehensive cardiac care services.
Cardiac Emergency
The emergency cardiac care at NICVD Nawabshah is a well-equipped 24-hour, 7-days-a-week service, which is run by trained and skilled emergency room physicians, cardiologists and paramedical staff.
Interventional Cardiology
The Coronary Cath Lab is staffed by specially trained physicians, nurses and technologists to provide high quality care and effective treatment. Our internationally and local trained Interventional Cardiologists are skilled with wide experience. Our Cardiovascular team cares for patients through prevention, diagnosis, treatment and rehabilitation of heart diseases. The coronary artery angioplasty, angiographies and all other procedures will be performed totally 100% free-of-cost.
Paediatric Cardiology
The facility of Paediatric Clinics adjuvant with Paediatric Echocardiography is also available to facilitate patients with septal defects, other cardiac malformations and acquired diseases.
The opening of this satellite center is a major milestone towards bringing world class cardiac care facilities for the citizen of Nawabshah and its peripheries at their doorstep.
Address
Peoples Medical College Hospital, ShaheedBenazirabad, Civil Hospital Road, Nawabshah – 67480, Pakistan.