Welcome to National Institute of Cardiovascular Diseases, Larkana
National Institute of Cardiovascular Diseases has opened new major cardiac facilities of Cardiology in collaboration with Government of Sindh at Civil Hospital, Larkana to provide interventional cardiology services to the people of Sindh at their doorstep.
Honorable Chairman, Pakistan Peoples Party, Mr. Bilawal Bhutto Zardari has inaugurated NICVD's first State-of-the-Art satellite centre at Larkana city.
Cardiac health facilities at Larkana:
Cardiovascular diseases represent a relevant problem worldwide. Data from World Health Organization (W.H.O.) demonstrate that they are one of the principle causes of death. The region of Larkana lacked required modern treatment facilities for cardiac patients as most of them were facing severe difficulties for treatment in the city. It was believed that majority of the population in Larkana lives in rural and remote areas with no any state-of-the-art cardiac health facilities. There was an acute need of cardiac modern facilities at Larkana city.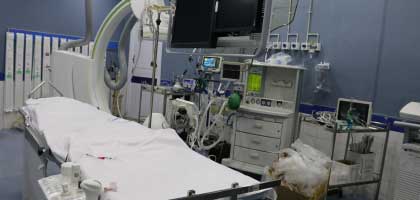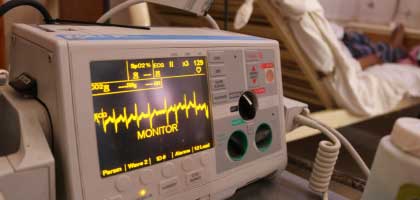 Interventional Cardiology – Endeavors of NICVD
National Institute of Cardiovascular Diseases announces a new era of heart healthcare with the inauguration of cardiovascular facilities of Interventional Cardiology with the introduction of new Coronary Catheterization (Cath Lab) and Coronary Care Unit at the premises of Cardiology Department at Civil Hospital Larkana. Cath Lab facility has been opened to the common man of Larkana and surrounding peripheries including areas of Baluchistan province.
The modern well-equipped Cath Lab and the adjuvant Recovery Area is located at the ground floor of existing Cardiology Department of Civil Hospital Larkana. This unit has been providing totally free of cost interventional cardiac therapies with quality care. Embracing the rapid technological advancement in the field of heart health, NICVD has brought both comprehensive diagnostic and treatment methods to the population of interior Sindh, including round the clock cardiac emergency services, coronary artery angioplasty, diagnostic angiography and echocardiography. Further in near future, this cardiac unit will be enhancing its capacity and infrastructure to provide best comprehensive cardiac care services.
Interventional Procedure / Cardiac Catheterization:
Our Coronary Cath Lab is staffed by specially trained physicians, nurses and technologists to provide high quality care and effective treatment for patients with heart and vascular diseases. The physicians who use the labs have widespread experience.
Our Cardiovascular team cares for patients through prevention, diagnosis, treatment and rehabilitation of heart diseases. As a new cardiac care unit in the region, patients will be benefitted with timely and easily accessible service in their hometown.
Address:
NICVD LARKANA
Department of Cardiology, Civil Hospital VIP Road, Larkana, Pakistan.