APRIL 20, 2019 – NICVD OPENS NINTH CHEST PAIN UNIT IN THE CITY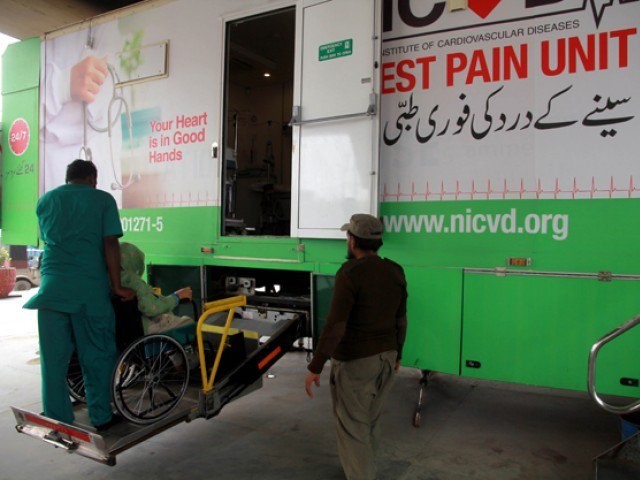 KARACHI: The National Institute of Cardiovascular Diseases (NICVD) launched its ninth chest pain unit (CPU) on Friday to provide immediate medical attention to the public, particularly commuters, exposed to heart attacks and related conditions.  The facility is located under the Karimabad flyover.
Adviser to Sindh Chief Minister on Information, Law and Anti-corruption Barrister Murtaza Wahab inaugurated the CPU. Speaking to the media, Wahab said that public health facilities have to be beyond politics and must be accessible to all without distinction.
"We consider health and education as essential components of human rights," said Wahab, who is also the spokesperson for the provincial government. He added that the Pakistan Peoples Party (PPP) firmly believed in public service and was making efforts to bring healthcare and educational institutions up to the mark.
NICVD Executive Director Prof Nadeem Qamar said that CPUs were basically meant to provide first tier of heart care to people at their doorsteps. He added that there were eight CPUs already functional in different parts of the city which have provided medical support to more than 200,000 patients since May 2018.
He explained that CPUs were functionally designed to provide preliminary emergency care to heart attack patients. "After being provided with initial treatment, the patients in need are shifted immediately to the tertiary care setup at NICVD Cath Lab," he said.
Prof Qamar added that a chain of CPUs was needed for the ever expanding metropolis and eight more CPUs would be established in the near future, bringing the number to 17.
Each of these CPUs is well-equipped with appropriate diagnostic facilities along with arrangements to resuscitate patients who may arrive in unstable condition, he said.
According to Prof Qamar, the idea was to not only provide needed assistance to the complainants but also screen those with serious conditions and in need of immediate medical intervention.
He mentioned that NICVD was also actively engaged in setting-up satellite centres along with CPUs in interior Sindh to help patients acquire needed medical assistance at their doorstep.
Source: The Express Tribune (April 20, 2019)