National Institute of Cardiovascular Diseases, Larkana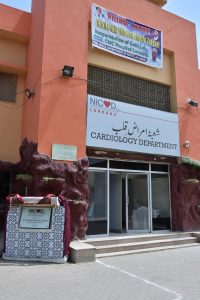 Welcome to National Institute of Cardiovascular Diseases, Larkana site.
National Institute of Cardiovascular Diseases has opened new major cardiac facilities of Cardiology in collaboration with Government of Sindh at Civil Hospital, Larkana to provide interventional cardiology services to the people of Sindh at their doorstep.
Honorable Chairman, Pakistan Peoples Party, Mr. Bilawal Bhutto Zardari has inaugurated NICVD's first State-of-the-Art satellite centre at Larkana city on July 30, 2017. The Inaugural Ceremony was also attended by Honorable Chief Minister of Sindh, Syed Murad Ali Shah, Honorable Health Minister Sindh, Dr. Sikandar Ali Mandhro, Health Secretary Sindh, Dr. Fazlullah Pechuho, trustees, prominent figures and hospital management.
Cardiac health facilities at Larkana: Today's perspective
Cardiovascular diseases represent a relevant problem worldwide. Data from World Health Organization (W.H.O.) demonstrate that they are one of the principle causes of death. The region of Larkana lacked required modern treatment facilities for cardiac patients as most of them were facing severe difficulties for treatment in the city. It was believed that majority of the population in Larkana lives in rural and remote areas with no any state-of-the-art cardiac health facilities. There was an acute need of cardiac modern facilities at Larkana city.