July 10, 2018 – Woman, 62, is first to be fitted with mechanical heart in Pakistan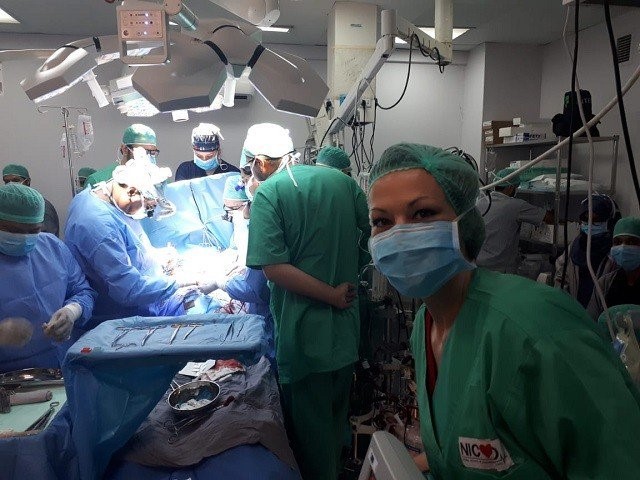 Islamabad: A 62-year-old woman in Karachi became the first recipient of a mechanical heart device known as the Left Ventricular Assist Device (LVAD).
Pakistani surgeon's performed the country's first mechanical heart implant at the National Institute of Cardio Vascular Diseases (NICVD) on Monday.
Nafeesa Begum, the first patient to undergo the complicated surgery, received the heart aid known as a 'mechanical pump' as her heart desperately needed mechanical support to properly pump blood into her body.
"A team of NICVD surgeons led by Dr Pervaiz Chaudhry has successfully implanted an artificial heart technically known as LVAD into a female patient," Executive Director NICVD Prof Qamar told media following the surgery.
The implant surgery was led by transplant surgeon Dr Pervaiz Chaudhry and Dr Nadeem Qamar and assisted by a team of eight experts.
Begum's heart was only 15 per cent functional before the surgery."
– Dr Hameedullah Malik | Administrator, National Institute of Cardio Vascular Diseases
The initiative of introducing mechanical heart transplant technology was taken by Prof Nadeem Qamar.
"We had been working on structuring this department for about six months now," the Administrator of NICVD Dr Hameedullah Malik said.
According to the doctors, a patient can undergo this procedure only if their other organs are functional.
"Begum's heart was only 15 per cent functional before the surgery but all her other organs were working fine."
Prof Qamar and US-returnee transplant surgeon Dr Chaudhry, told journalists the patient was doing fine after the surgery and would be able to breathe without support and talk to her family in a day's time.
The NICVD officials said the surgery was the first of its kind in Pakistan. The cost of LVAD implant is more than Rs10 million (Dh533,923), however "not a single penny was received from the patient's family for the expensive surgery" as the surgery was funded by donors and NICVD, Dr Malik added.
Dr Chaudhry who had been performing implant surgeries for a decade said the surgery at NICVD was successful. He said LVAD implant was a "destination therapy" for the patient, who would not require any heart transplant throughout her life as "this device would help her heart pump blood from seven to 10 years".
Earlier, NICVD had identified former hockey goalkeeper Mansour Ahmad as its first patient to receive LVAD, but he died due to another heart attack before the surgery could be performed.
Prof Qamar said the facility's goal was to achieve the target of heart transplant which would be a reality within next two years.
"We have identified some four to five patients who qualify for the LVAD insertion and these patients would get LVAD implants in coming days."
An LVAD is different from an artificial heart which completely replaces the failing heart whereas an LVAD supports the heart to help pump more blood with less work.
"A regular heart transplant is as though inserting a new heart in the body but in a mechanical heart transplant the organ is not replaced, in fact, the valve or the pumping mechanism is fixed by using a device" explained Dr Malik.
Source: Gulf News (July 10, 2018)