Heart ailments to now be treated free of charge at NICVD
The National Institute of Cardiovascular Diseases (NICVD) on Tuesday announced waiving charges off all health services provided at the medical facility to both OPD and general ward patients.
From today onwards, treatment of patients admitted at the general ward will be carried out free of charge, whereas those visiting the out-patient department (OPD) of the NICVD will also not have to pay for any services, said NICVD Executive Director Prof Nadeem Qamar.
Health services including angioplasties, bypass surgeries, medical examinations like echocardiography, X-rays, thallium stress test, exercise tolerance test and medical consultations would be provided free of charge to all general ward patients and OPD patients will not have to pay the token fee, nor any OPD charges or admission fee.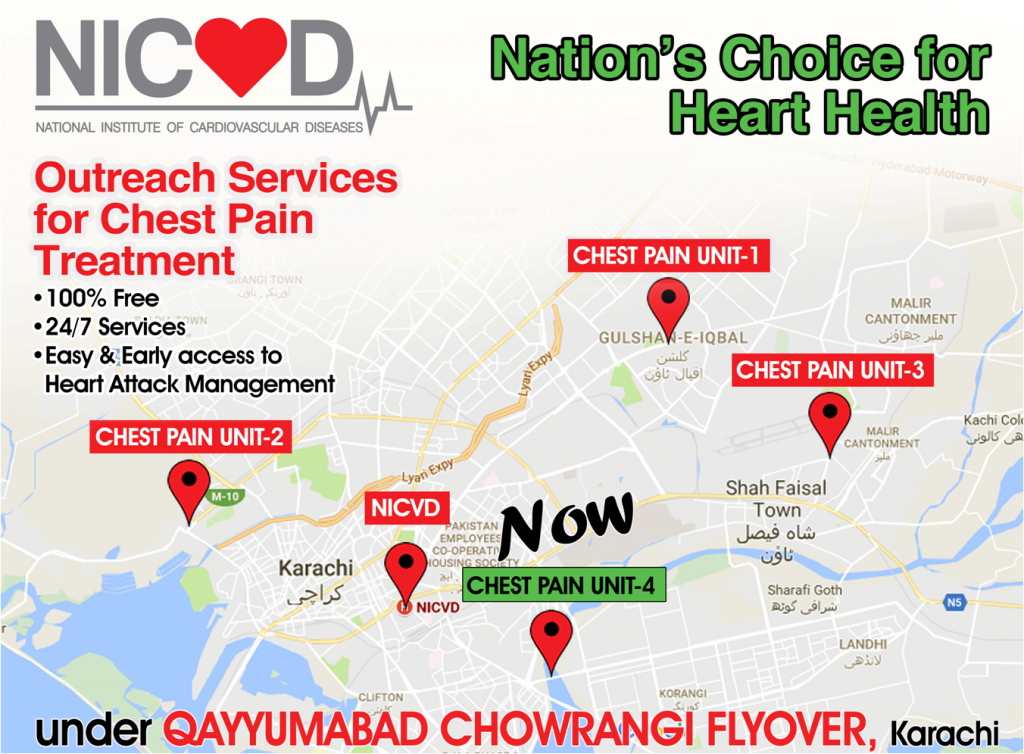 The decision was announced by Prof Qamar following the inauguration of NICVD's fourth Outreach Chest Pain Unit in the city set up under the KPT Interchange, Qayyumabad. He was accompanied by Sindh Secretary Health Dr Fazlullah Pechuho.
"The NICVD is now perhaps the only public sector hospital where OPDs would be held from 8:00 am to 5:00 pm and not a single penny would be charged from the patients," Prof Qamar stated.
Speaking to The News following the inauguration ceremony, he said the NICVD conducts thousands of angioplasties, paediatric surgeries, bypass operations and several other procedures and patients at minimum costs; but most of the patients who visit the medical facility from the interior of Sindh, Balochistan and Punjab could not even bear that minimum cost, he said. "For patients who earn a total of Rs300 to Rs500 in a day, a payment of Rs100 to Rs500 is a burden."
Prof Qamar observed that it was his dream to make NICVD a facility where anybody could get quality treatment free of charge. He hoped that other public sector institutions would also follow suit.
Regarding the fourth CPU established under Qayyumabad flyover, the NICVD chief said it was another milestone achieved.
"A lot of lives will be saved through these units as a number of patients die of while being shifted to a hospital due to traffic jams and hospitals located at long distances," he added. The hospital was already providing paediatric surgeries, pacemaker insertion surgeries and implantable cardioverter-defibrillator devices free of charge.
Pechuho praised NICVD's initiative to set up Chest Pain Units in different localities of the city to facilitate patients and avoid delays in reaching hospital in case of a heart attack.
"The Sindh government is determined to provide easy access and quality healthcare to all segments of the society, particularly to the marginalised and underprivileged population," claimed the secretary health.
The secretary health further added that the initiative would educate people about promptly seeking medical in case of chest pain, chest discomfort, shortness of breath, excessive sweating, syncope – symptoms of a heart attack – as well as regarding risk factors for coronary artery disease, particularly smoking.
"It is our aim to provide best cardiac services to the people of Sindh at their doorstep," the health secretary maintained. He thanked the Karachi Metropolitan Corporation for cooperating in establishing the CPUs in the city.
Source: The News International